Creamy Potato Soup
Soups can be intimidating. Should you use heavy cream, evaporated milk or plain old milk? And that's only the start! Which is usually enough to make me turn to a meat and potato dinner. Still being snowed in I decided to go ahead and make a basic soup. The only thing I actually had ready was bacon grease that I keep on hand. I don't keep a stock pile of "soup" ingredients on hand so this had to be real simple.
This soup is so easy it shouldn't scare you away. Still reeling from being on Blizzard Duty and having a big reserve of baked goods, tackling soup seemed like a good idea.
This recipe makes enough for 2-4 servings.
Ingredients
1 Large Potato (1 1/2 cups cubed)
1 cup Chicken broth
1 cup sliced or chopped vegetables (I used carrots)
2 tablespoons bacon drippings or butter
2 tablespoons flour
1/2 teaspoon Herb de Provence
1 cup milk
1/2 cup plain yogurt
**You can use whatever vegetables you have on hand and if you don't have Herb de Provence use a small dash of parsley
Directions
In a medium size saucepan bring potatoes and broth to a boil over high heat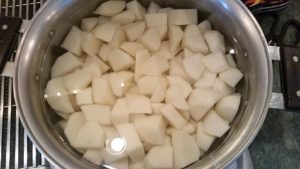 Reduce heat to medium, cover and cook 8 minutes until tender
Do Not Drain
Use a slotted spoon and remove half of the potatoes;mash
Return the mashed potatoes to the saucepan and set aside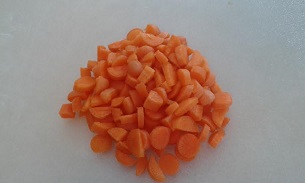 In another saucepan cook vegetables in bacon drippings or butter over medium-high heat until tender, stirring occasionally
Whisk in flour and herb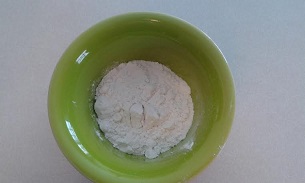 Cook and stir for 1 minute, this is a quick minute so don't walk away!
Whisk in milk until thickened and bubbly stirring Constantly with whisk
Remove from heat
Put the yogurt in a separate bowl and gradually whisk in half of hot milk mixture
Return milk-yogurt mixture to the saucepan, whisking well
Combine milk mixture to the potato mixture and heat on Low for 5 minutes
Remove from heat
ENJOY!