Chicken Pot Pie Recipe
I grew up on  frozen Swanson's Chicken Pot Pie, not that that's a bad thing! After making countless Shepherd's Pie it was time for a change that didn't involve ground beef. My attempt at recreating the frozen pot pie was successful. This is a creamy all in one dish, after you get done with all the pots, cutting boards and dirty dishes to create this. This could probably be done with less of a mess than I had but it was definitely worth it. I feel confident I succeeded with my pot pie but I sure made a mess doing it. I will be perfectly honest, the only reason it looked like a flour bomb went off in my kitchen is because I made my own pie crust. Figuring that it probably would not turn out I did have a back up plan, the refrigerated ready-made pie crust was within arm's reach. So, if you don't attempt at trying your own pie crust(if you are pie crust challenged like me) the damage should be minimal. I haven't quite mastered the whole homemade pie dough thing so I'm not going to share that recipe yet. Although I will say it LOOKED like awesome pie dough until I started rolling it.  I did use my own homemade pie dough but it didn't exactly lay on top beautifully. That's a whole different topic that I'm hoping to get to later. If anyone can chime in and help me out with that I would be grateful!
Ingredients
2 celery stalks
3 medium carrots
1 medium sweet onion
4 tablespoons butter (1/2 stick)
1/2 cup frozen peas
2 cups peeled, diced potatoes
2 cups cooked chicken cut into bite size pieces
1 cup all-purpose flour
2 cups low-sodium chicken broth
1 chicken bouillon cube
1 cup heavy cream
1 teaspoon salt
Dash of pepper
1 ready-made pie crust
Directions
Begin by  finely dicing the celery, carrots and onion
Cook the potatoes for about 15 minutes to soften
Drain the potatoes and keep on the side for now
Melt the butter in a large pot or Dutch oven
Add the celery, carrots and onions
Saute until the vegetables start to turn translucent, a few minutes
Add the frozen peas and potatoes
Add the chicken and stir
Sprinkle the flour over the vegetables and chicken and stir
Cook for a few minutes stirring
Pour in the chicken broth and stir
Add the chicken bouillon cube
Stir
Pour in the cream and allow to cook over low heat for about 5 minutes
Add Salt and a dash of pepper
Pour the chicken Mixture into a small casserole dish or deep dish pie pan. That's Creamy Goodness!
Roll out the pie dough, unfold if using the refrigerated kind
Place the crust on top of the chicken mixture
Cut small slits in the top
Gently press the crust down into the sides of the dish to seal
Bake for 30 minutes at 400 degrees
Cool for 10 minutes before serving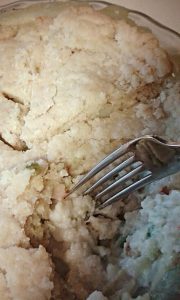 Enjoy!