CAKE MIX COOKIES
Custom Cookies with endless possible combinations! Be creative and combine different mixes to create individual custom cookies.
3 ingredients
Plus morsels,fruit or nuts (You Decide!)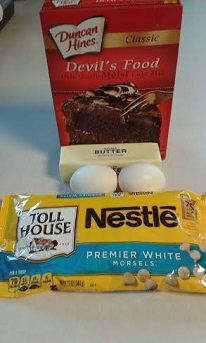 All you need is a box cake mix, one stick of butter, 2 eggs and whatever you'd like to add to make your own custom cookies
This seems far too easy doesn't it? You have the option to add chocolate chips, mint chips, peanut butter chips, and all the other types of morsels out there. If you are not in a morsel mood, you can add macadamia nuts, walnuts, cranberries,  pecans, cherries and coconut. This choice is entirely yours the possibilities are endless. Be creative!
The same goes for the cake you choose! Pineapple, chocolate, vanilla, red velvet, strawberry,  you get the idea. Decide ahead of time or decide as you gaze over all the varieties at the grocery store, either way you can't come up with a wrong combo. My combination is a Devils Food Cake with white morsels.
Let's do this!
Ingredients
1 Box Cake Mix
1 Stick of Butter softened to room temperature
2 Eggs
1 Cup of Morsels
Directions
Preheat oven to 350 degrees
In a large bowl mix the stick of butter with the cake mix and eggs
Fold in the morsels
Using a cookie scoop  place cookie dough  on a parchment paper lined cookie sheet
Bake at 350 degrees for 9 minutes until edges are set (centers will be soft)
Cool one minute before removing to cooling rack
Enjoy!