SOFT OATMEAL RAISIN COOKIES
Who can resist a soft moist oatmeal raisin cookie? Time to bake something sweet! These Oatmeal Raisin Cookies are soft, delicious and will make your home smell oh so good! They are easy to make and turn out perfect every time.
This recipe makes approximately 3 dozen depending on how big you make your scoops.
Ingredients
1 cup of raisins
1 cup butter, softened
1 1/2 cups brown sugar, packed
2 eggs
2 cups of flour
1 teaspoon baking soda
1 teaspoon baking powder
1/2 teaspoon cinnamon
2 cups oatmeal (Quick Cooking Oats)
Directions
Start by plumping up the raisins by cooking in just enough water to cover them. Cook on low heat for 5 minutes
Drain, rinse under cool water and let cool
Beat and cream the butter, brown sugar and eggs with an electric mixer
In a separate bowl mix together the Flour, baking powder, baking soda, cinnamon and oatmeal
Add the flour mixture to the creamed butter mixture and combine
Add the raisins and mix in gently
Using a cookie scoop place on a lightly greased cookie sheet or parchment paper lined cookie sheet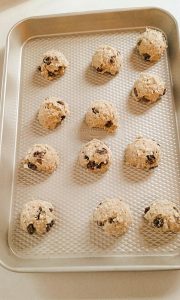 Bake at 350 degrees for 8-9 minutes
Remove from oven before they brown
Cool for several minutes on cookie sheet before removing to a cooling rack.
Enjoy!