Coleslaw with honey
Going through my Ukrainian grandmother's recipes I found a real treat! Coleslaw and the secret ingredient is honey. I'm sharing this recipe with you and it's a good one! This is the perfect side dish to accompany many entrees!
I don't make coleslaw on a regular basis. This was a new one for me. Again as always, the recipe passed on to me has no details but none are really necessary because it is very simple.
This makes approximately 1 pound
Ingredients
1 head cabbage
2 carrots
1/2 cup mayonnaise
1 tablespoon red wine vinegar
1 teaspoon salt
1/8 teaspoon white pepper
2 tablespoons honey
Directions
Cut the head of cabbage in half
Grate the cabbage
Peel the carrots
Grate the carrots
Mix all ingredients together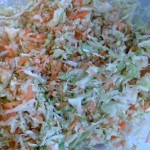 Enjoy!