STRING BEAN SOUP
String bean soup is a month of June tradition in our family. In northeast PA the month of June is string bean picking time.  That doesn't mean I only crave this soup in June!  A reminder that I said  in an earlier post that I don't have many soup recipes up my sleeve and I have to admit this is the best one! This soup is too good to keep a secret so I am happy to share it!
This recipe is not difficult to make but it does take a little time to prepare to get it just right.  I generally don't like to waste my time with things that are only so-so. Chopping the vegetables and waiting for the onions to melt is time consuming but the effort that goes into preparing this soup is definitely not a waste of time! This is an absolutely amazing  creamy soup! Serve with a nice piece of Rye Bread.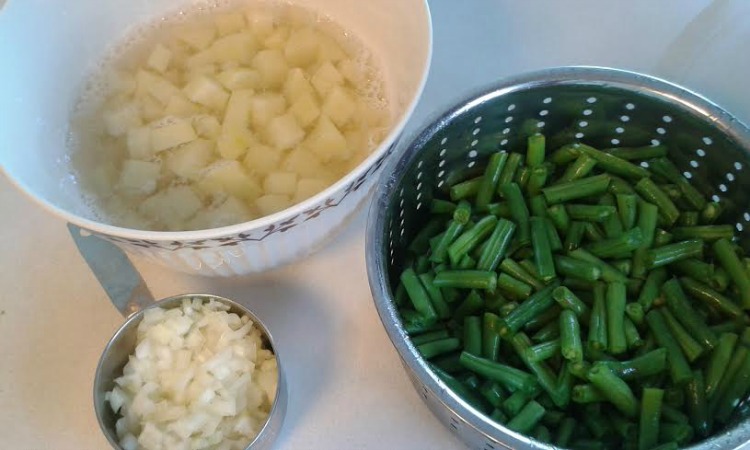 Ingredients
1 lb green beans (fresh) (cut into 1 inch pieces)
2-3 Potatoes (peeled and diced)
1 Medium Sweet Onion (chopped small)
4 Tablespoons Butter
6-8 Cups Chicken Broth
16 oz Heavy Whipping Cream
3 Tablespoons Cornstarch
1/2 Teaspoon Paprika
1/2 cup water
Directions
Melt Butter in a Large Pot
Add the Onions
MELT the onions by cooking SLOWLY over low heat and adding a little broth and cook until the onions are mushy (about 20 minutes)
Do NOT brown
Add the Paprika to the onions
Add  the green beans to the onions and cover with broth
Bring to a soft boil and cook until tender
Add the potatoes to the green beans
Keep adding broth as needed
In a separate bowl mix the cornstarch in water
When the potatoes are soft add the cornstarch mixture
Once the soup is slightly thick turn down heat to low
Add the heavy whipping cream
ENJOY!