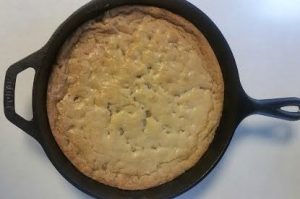 A Chocolate chip skillet cookie is an easy way to satisfy your craving for chocolate chip cookies without investing a lot of time.
Using a 10-inch cast-iron skillet to bake your big chocolate chip cookie makes it easy to create what turns out to be a giant cookie pie.
An ooey gooey chocolate chip cookie topped with a scoop of ice cream is hard to resist! Go ahead, satisfy your chocolate craving with this dessert. You can thank me later!
Ingredients
6 Tablespoons butter,  room temperature
1/3 cup light brown sugar, packed
1/2 cup granulated sugar
1 large egg
1 teaspoon vanilla extract
1 cup all purpose flour
1/2 teaspoon baking soda
1 cup chocolate chips
Directions
Preheat oven to 350 degrees
Grease the skillet with butter
In a large bowl combine, butter and sugars
Stir in egg and vanilla
Stir in flour and baking soda
Stir in chips
Transfer to the skillet and smooth the top
Bake until the cookie is golden brown and the center is set
About 18 minutes
Let cool before slicing
*Don't store the cookie in the skillet. Transfer cookie wedges to an airtight container.