These homemade sub rolls are great for hot dogs, subs and even garlic bread!
Summer is here and it's time for grilling! Why not give these homemade  sub rolls a try! These rolls are soft on the inside and not too hard on the outside.  Making them at home is so much better than the store-bought rolls!
I am not an accomplished bread maker by any stretch of the imagination. But, these aren't difficult to make and you can impress everyone with your baking skills! This recipe makes 8 rolls. You can also freeze these rolls for later.
Ingredients
1 tablespoon sugar
1 3/4 teaspoon instant yeast
1/4 cup warm water
1 cup warm whole milk
1 tablespoon vegetable oil
1 teaspoon salt
3 1/2 cups all-purpose flour
1 large egg beaten with 1 tablespoon water (for egg wash)
Instructions
Using the bowl of a stand mixer,  combine the sugar, yeast, water, milk, oil, salt and 3 1/2 cups of flour
Stir with a spoon until the dough comes together
Using the mixer, knead with the dough hook
Knead the dough on low for about 7 minutes, until it is smooth and elastic
Mix until the dough pulls away from the sides of the bowl
The dough will be somewhat tacky
Shape the dough into a ball and place in a large bowl sprayed with nonstick cooking spray
Cover the dough with a towel and let rise until doubled in size, about 45 minutes
Line a baking sheet with parchment paper
Divide the dough into 8 equal pieces
Working with one piece of dough at a time,  shape into a ball
Using your hands, shape the ball into a cylinder, about 4 inches in length
Transfer the dough cylinders to the baking sheet
Placing them about one inch apart
Cover the dough  with a towel and let rise until doubled in size,  about 40 minutes
Preheat oven to 400 degrees
Brush the buns with egg wash
Bake for 15 minutes, or until the tops are golden brown
Place buns on wire cooling rack
When cool, slice the rolls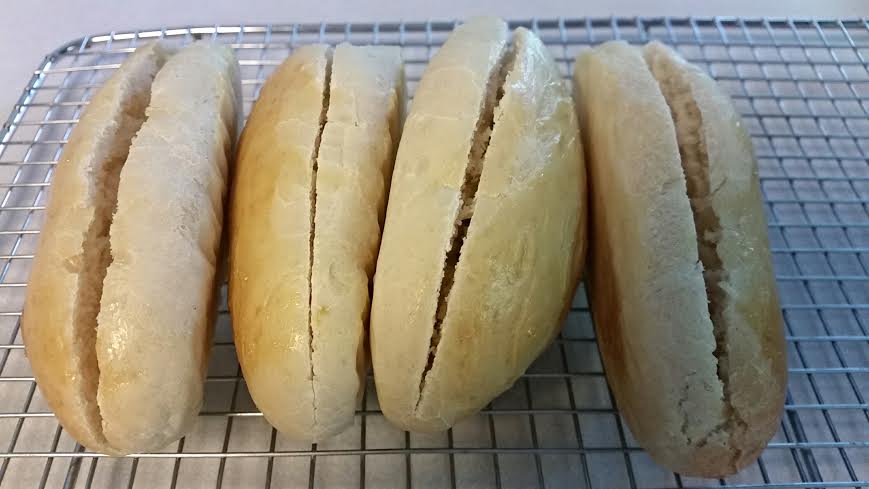 Enjoy!