While traveling in New England I was lucky to find a treasure at the Rt28 Diner in South Yarmouth, MA. This tiny diner along Rt28 is a gem and the food was excellent. I was especially impressed with one side dish in particular, the frosted bacon. Combining the salty bacon and the sweetness of the frosting makes for an extra special breakfast treat.
I decided to try and duplicate their frosted bacon and viola! Perfect! This was too easy and I'm surprised I haven't thought of this myself being that I'm always going back and forth between salty and sweet food.  I'm sharing the recipe with you because I know most of us just can't hop in the car and head to Massachusetts.  Enjoy this along with your breakfast or alone, either way you will be able to experience the treasure I found right at home.
Ingredients
1 pound of bacon
1 1/4 cup confectioners' sugar
3 tablespoons whole milk
1/2 teaspoon vanilla extract
Directions
Fry bacon on stove top until you reach your desired crispiness
While bacon is frying prepare the frosting
In a medium size bowl add the confectioners' sugar
Add the 3 tablespoons of whole milk to the sugar
Combine together
Add the 1/2 teaspoon vanilla extract to the sugar and milk mixture
Mix well
Set aside
Line a plate with a paper towel
Remove bacon from fry pan and transfer to paper towel lined plate- to absorb excess grease
Transfer the bacon to a serving plate, laying each piece flat
Drizzle with the frosting
Enjoy!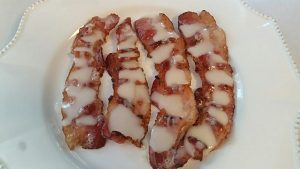 Be sure to check out the Rt28 Diner Facebook Page!