Americana is alive and well at the Rt28 Diner in South Yarmouth, MA. At the Rt28 Diner you not only find excellent food but a taste of history. Rt28 extends from Orleans, MA to Lake Winnipesaukee, NH! If you find yourself on Rt28 in South Yarmouth, be sure to stop in this charming diner. They are open from 5:30am until 2:00pm, seven days a week including holidays.
Inside this humble diner you will step back in time and find yourself surrounded by old license plates, model cars and other paraphernalia commonly found in diners from the 1950s. Diners are characteristic of American life especially in NJ, PA, NY and the Northeast offering a wide range of American foods. Here at the Rt28 Diner the breakfast menu includes the usual eggs, pancakes, omelets and one of their very own specialties frosted bacon! I'll get back to what the menu has to offer in a minute. The atmosphere is what you will experience even before you have a chance to open the menu. Diners are known to have an individuality that can't be found in the franchise restaurants we have today. A good diner should encapsulate the symbols of American optimism and prosperity from the 1950s and the Rt28 Diner will not disappoint!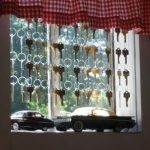 This diner is very charming with it's red and white gingham valences, 9 booths and a counter that serves 8. Street scape photos from the 50's decorate the walls. A Lego replica of the diner is enclosed in a glass case behind the counter that I did not notice on my first visit sitting at the counter. The exterior is recognizable by a familiar style unique to diner architecture, the shiny layer of stainless steel. It's a tiny diner although it's not a "train car" diner, so watch for the sign so you don't miss it.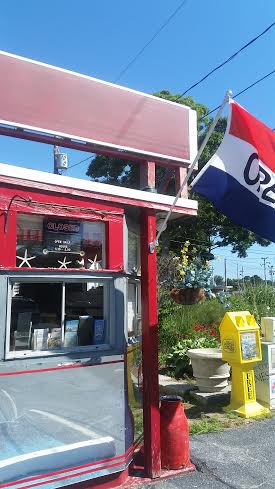 They do not take reservations and you may find yourself in a line that extends out into the parking lot if you arrive during their busiest hours. The hostess will take your name and call you when your table is ready. When you do get inside you will notice a friendly reminder on the tables to be courteous to other guests waiting for a table. I visited during a holiday weekend and 9:00-10:00am appeared to be a very busy time. My own wait time during this holiday weekend was about 20 minutes. Cape Cod is a tourist area and diners generally are small businesses that attract the local population. You will not be disappointed when your name is called and you find yourself in a booth that has an old 45 record as your place setting.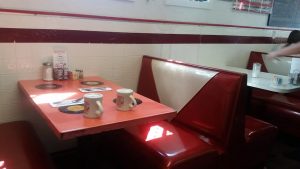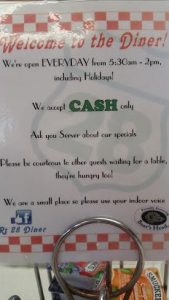 Here in South Yarmouth, the menu offers many choices including healthy options. The daily specials were up on a blackboard. During my visit the specials included a turkey avocado breakfast sandwich for $5.98, taco omelet and a Monte Cristo benny for $7.40. The prices are reasonable but please take note it is cash only.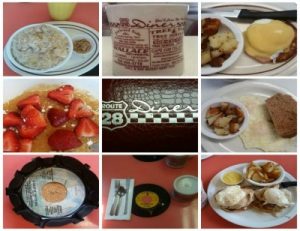 Earlier I mentioned the frosted bacon, bacon drizzled with a melted frosting. The combination of sweet and salty can only be described as absolutely sinful. Be sure to order a side of the frosted bacon when you visit!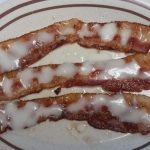 I have a recipe for frosted bacon on my blog if you want to recreate it at home.
Whatever choice you make you will be served a home cooked meal that you won't forget. The staff is friendly and the atmosphere is casual.  Be sure to visit this gem if have the opportunity!
Visit their Facebook Page!