Turquoise water, crystal clear blue skies and warm weather everything you would expect from Bermuda. I admit I'm a warm weather addict with an unbounded enthusiasm and interest in the preparation of good food. My mission was not just to see Bermuda but to embrace Bermuda and the best way to do that is through food. You might not think banana bread is part of the Bermuda experience but I found the recipe at a local market so I had to try it.
I love having the opportunity to share my own family's heritage with you through meals and traditions. In addition to that, I'm fascinated with other cultures and learning that a meal gives you personal insight into the people and history of a region. Most of us have tried to make banana bread, this one in particular is soft, moist and full of banana and nut flavor. Today we are going to experience Bermuda banana bread!
Traveling with my family aka my food crew, allows me to share with my children and help expand their world. I appreciate their feedback and they hold nothing back. The kids in general scour menus for familiar foods, burgers and pizza. Sometimes it's just us grownups that jump in and try new cuisines. It's not a problem if the kids order the same old same old. They are meeting new people, seeing new countries and experiencing the world outside of their own little hometown. I appreciate that they let me drag them around and humor me as I attempt to try to recreate a new recipe.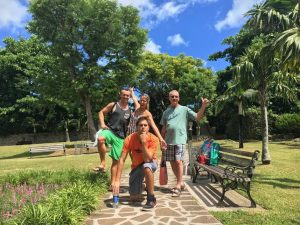 Many times I curb my over enthusiastic cooking by approaching a new recipe with a cautious slow approach, but I don't always listen to me. I have a tendency to approach recipes blindly with reckless abandon. I'm not going to apologize, most times I get good results! When I don't get good results I at least get a good laugh. The Dalai Lama, the Buddhist monk says it best "Approach love and cooking with reckless abandon." Definitely how I approach cooking most days!
I'm starting with the simplest, family friendly recipe I found, Bermuda banana bread. In time, I'm going to ease my food crew into cassava pie and sweet potato pudding. When that happens I'll be sure to share it with you.
Finding recipes and restaurants to share with you is what I love to do. You can experience Bermuda whether you have the opportunity to travel there or you can experience it right at home. If you happen to be swinging by the little island I recommend trying out a couple of restaurants. Stop in the Bone Fish Bar and Grill for an unbelievable shrimp and mango empanadas with sweet chili, tropical salsa. The empanadas are ridiculously good! You should also take a stroll down to La Trattoria in Hamilton. This Italian restaurant is a favorite among the locals offering specials and traditional Italian fare.

Let's get to that Bermuda Banana Bread recipe!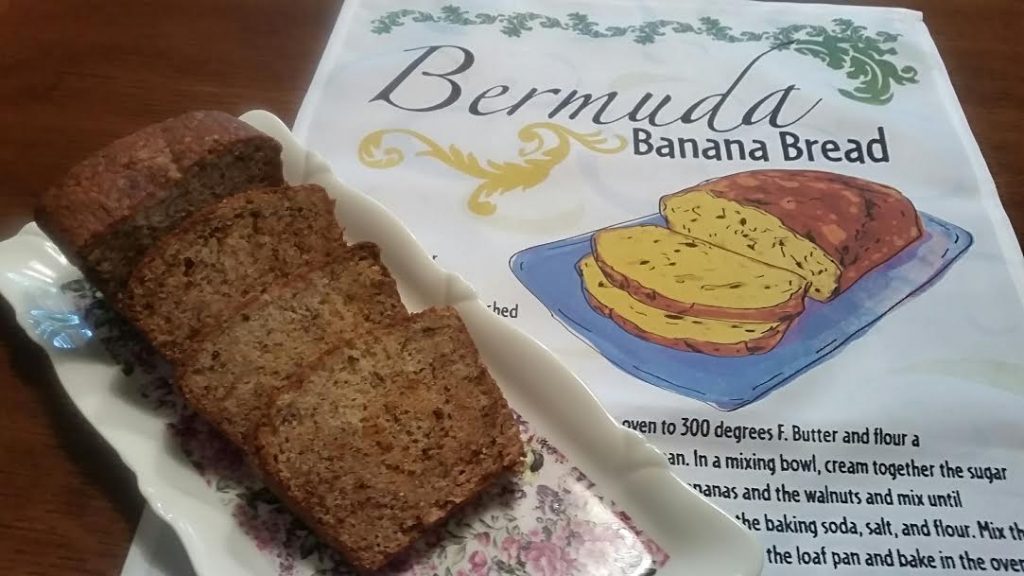 Ingredients
3 very ripe bananas mashed
4 ounces butter
2 large eggs
1 cup sugar
1/2 cup chopped walnuts
1 teaspoon baking soda
1/4 teaspoon salt
2 cups all-purpose flour

Directions

Preheat oven to 300 degrees
Butter and flour a 3-x-5-x-8 inch loaf pan
In a mixing bowl, cream together the sugar and butter
Add the eggs, one at a time
Add the bananas
Add the walnuts
Mix until everything is well combined
In a second bowl,shift together the baking soda, salt and flour
Mix the moist ingredients into the dry ingredients
Pour the batter into the loaf pan  
Bake in the oven for 1 hour and 20 minutes or until a toothpick inserted into the center of the loaf comes out clean
If the top of the loaf starts to get too dark, cover with aluminum foil