A friend gave me this recipe more than twenty years ago and I have made it without fail every year since. Looking back I'm amazed I learned to make pumpkin roll the old fashion way, without internet assistance. How did I even manage to put a meal together before Food blogs, Pinterest, Google or YouTube?? All I can guess is I wasn't very creative with my meal planning. Now I'm giving away how old I am, but on the positive side I have many many many years experience and you can trust my recipe 🙂
I originally got this recipe from a friend over the telephone. At the time I had four small children and thinking back, how did I have time to talk on the phone?? My friend also had four small children and it amazes me that  we had time and energy to bake. I ended up jotting down the recipe on several pieces of scratch paper. It's hard to believe I didn't write with a crayon. Back then I was naive to think all I needed was a list of ingredients and didn't bother to ask for technique. I was more concerned with keeping track of kids, not rolling pumpkin roll. The innocence of being young, I figured if you threw the ingredients together it magically turned into something edible and beautiful.
This pumpkin roll recipe does not have extra spices in it, it stands very well on its own. You may add your favorite spices to personalize it to your taste. The cream cheese filling is the perfect combination of cream cheese and confectioners' sugar. I admit, I do sample a couple teaspoons before filling the roll…shhhh
Through trial and error I have learned what to do and what not to do. When making pumpkin roll, there are a few tricks to learn so the cake doesn't crack. Please read the notes at the end of the recipe for tips to create the perfect pumpkin roll.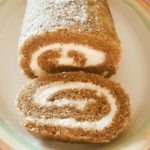 Classic Pumpkin Roll
Ingredients
3

eggs

1

cup

sugar

2/3

cup

pumpkin

1

tsp

baking soda

1

tsp

cinnamon

1

cup

flour
Cream Cheese Filling
8

oz

cream cheese

room temperature

1

cup

confectioners' sugar

4

tbsp

butter

1/2

tsp

vanilla
Instructions
In a large bowl beat 3 eggs together


Add sugar, pumpkin, baking soda, cinnamon and flour to the eggs. Mix well


Grease jelly roll pan or line with parchment paper


Bake for 15 minutes at 375 degrees


Let stand for about 3 minutes before taking out of pan


Turn upside down on a lint free towel that you have sprinkled confectioners' sugar on (to prevent sticking)


Roll up into the towel like a jelly roll


Unroll carefully and spread with cream cheese filling


Roll up again in wax paper, then refrigerate

Cream Cheese Filling
Beat all the filling ingredients until creamed

Recipe Notes
*It is very important to use the proper size jelly roll pan for this to work. I use a 15x17 inch jelly roll pan with no sides. Using a smaller pan makes the cake part too thick, the cake needs to be on the thinner side or it will crack when rolling.
*If the ends come out of the oven too hard/burnt, use a pizza cutter to trim off the hard edges.
*Use lots of confectioners' sugar on the towel to prevent the cake from sticking.
*Be sure to use a lint free towel to prevent any fuzz coming off on the cake.
*When filling with cream cheese, spread leaving an inch around the borders.