When the air becomes crisp there's nothing like the scent of pumpkin and cinnamon baking! If you like pumpkin pie you will be a huge fan of these. You might also want to consider adding this to your Thanksgiving menu. There are some guests that prefer cake instead of pie and this keeps with the theme.
Pumpkin brownies are a moist cake like dessert. This was my mother's recipe and the recipe title she wrote was Pumpkin Brownies. I'm not going to change it's name but it does bake more like a cake. It slices up in perfect squares giving it a brownie appearance. Either way, this is an excellent addition for your fall baking.
Fall brings with it a whole host of extra curricular activities. When you know you are going to have a busy day, you can prepare this the day before or in the morning.  I can't think of anything better than a warm baked good to make life cozy. Indulge in a slice of with a hot cup of coffee or glass of milk. The prep time is only ten minutes and the bake time is thirty minutes.
The perfect compliment to the pumpkin is a basic cream cheese frosting.  You can skip the frosting and use whipped cream if you prefer.
Ingredients
15 oz can of pumpkin
1 cup vegetable oil
4 eggs
2 cups sugar
2 cups flour
1 teaspoon baking soda
1 teaspoon baking powder
1 teaspoon cinnamon
1/2 teaspoon salt

Directions

Preheat oven to 350 degrees
Beat eggs, oil, pumpkin and sugar together
Stir in remaining ingredients until evenly mixed
Pour into 9×13 baking dish
Bake for 30 minutes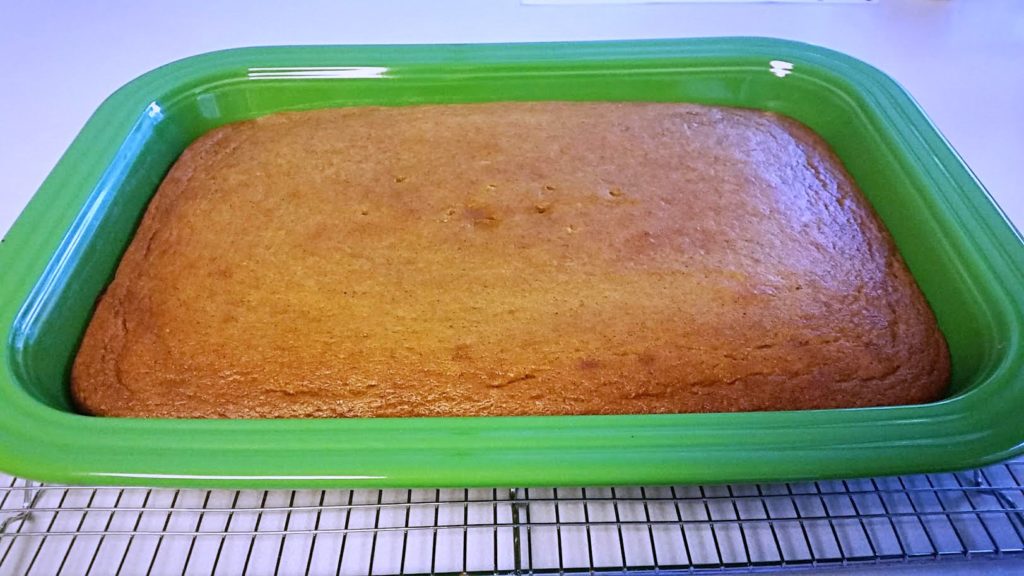 Recipe for Basic Cream Cheese Frosting
Ingredients
1/2 cup butter, softened
8 oz cream cheese
4 cups confectioners' sugar
2 teaspoons vanilla

Directions

Beat butter and cream cheese until blended
Add the confectioners' sugar and vanilla
Beat until creamy