Hello I'm Jacquelyn and welcome to Jackieskitchn 
I started this food blog as a way to share my love of food with friends and family.  My blog is a labor of love, derived from 30+ years of trial and error in my very own "test kitchen."
I am proud to say that my background includes studying with Protocol Consultants International and The Charleston School of Protocol and Etiquette. People want to feel that they matter. Incorporating those beliefs when dining shows the respect we have for others and ourselves.
My goal is to combine my love for cooking and traveling and share with you the treasures I find. I am always searching for new creative recipes while traveling, along with finding restaurants that are hidden gems. Come along on this food journey with me, who knows I might be coming to your neighborhood!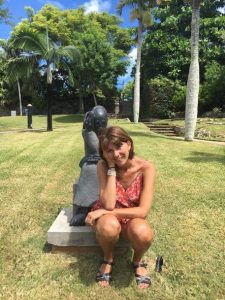 Here's the rundown:
I am a protocol consultant
I am the youngest of 5 girls
I have 4 young adult children,  2 daughters and 2 sons
I always have flour on me when I'm in the kitchen
I always cook with music playing
I love traveling and seeing the world
I associate the places I've been with the food I've experienced there
All four of my grandparents were immigrants coming to the US in the early 1900's
Please don't forget to subscribe to my blog so you don't miss out on any recipes and awesome restaurants you can try!
If you will be making reservations for dinner, try out the Zomato button below. Click on the Foodie Index, it will help you find a great restaurant in your area. This is a great reference to check out before you head out!
Your Table Is Waiting!